The complicated case of Cody Kirkpatrick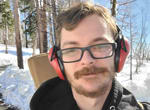 Cody Kirkpatrick is not a stranger to robotics. As part of his trade as a repair technician, the 27-year-old has worked on everything from lasers and medical machines to advanced conveyor systems and sorting devices. But he never thought robotics would be used to help significantly improve his life.
As an automation mechanic for UPS, Kirkpatrick constantly has to lift, bend and contort into tight spaces, so he has to be in good shape. Usually an active individual, he began noticing changes to his body after a bout with Valley Fever (a lung infection caused by a fungus that lives in the soil) in 2018. He started experiencing pain that affected his work and home life. So he went to his pulmonologist.
"Once I had Valley Fever, my doctor told me to pay attention to any unusual pains since it could affect other organs in my body besides my lungs," says Kirkpatrick. "My doctor took a CT scan and noticed a cystic growth that wasn't there from the last scan taken only a month before. That's when he directed me to go to my primary care doctor, who then referred me to Dr. Vyas (Dinesh Vyas, MD)."
Dr. Vyas felt that the cyst needed to be treated urgently, but Kirkpatrick decided to hold off since he did not want to take time off work. About a month later, Kirkpatrick started experiencing more intense pain and pressure, accompanied by an abdominal bulge. He knew he needed treatment ASAP.
Expert care, just in time
Dr. Vyas diagnosed Kirkpatrick with an enlarged spleen and cyst caused by a fungal infection. The stomach bulge was a gastric compression, also likely caused by the infection. Dr. Vyas said he would need to perform a robotic splenectomy (removing the spleen) with gastric repair to the stomach and a possible bowel resection.
At first, Kirkpatrick was fearful about surgery because he had heard that the recovery was extremely difficult. Dr. Vyas assured him that he would have a much faster recovery and less post-op pain than with traditional surgery. Kirkpatrick's procedure would be minimally invasive using the da Vinci Xi surgical robot.
When Dr. Vyas went in to remove the spleen and cyst, he found an unexpected complication — the spleen was fused to the stomach. Work had to be done immediately to unfuse the two organs before the spleen could be removed, the cyst extracted and the abdomen recontoured — all in a very confined space.
"The da Vinci system enabled me to perform this delicate operation with incredible accuracy and better access to the abdomen and spleen," says Dr. Vyas. "I was able to zoom in with the camera and magnify on the tiny nerves and blood vessels, giving me even greater visualization of my patient's anatomy. Also, the robot allowed me to work and manipulate my surgical tools around these confined, difficult-to-reach spaces. For this case, especially, that was a game-changer, since we had to get everything done so quickly and precisely to ensure the patient's safety."
A fast recovery
After his surgery, Kirkpatrick says he felt great and had easily manageable pain. He was also able to walk again shortly after surgery.
"Being mobile within the first day of surgery was amazing, and much better than I would have ever thought," says Kirkpatrick. "Thanks to Dr. Vyas' wonderful work and the minimally invasive nature of my surgery, recovery was a lot easier than I thought it would be."
Kirkpatrick also noticed that he was the hungriest he'd ever been in a long time — he usually rarely had the urge to eat, likely because of his stomach and spleen being fused. "This new hunger was a sensation I had not experienced in years," says Kirkpatrick.
Now he is more relaxed and less irritable because he's not dealing with daily pain.
"Overall, I'm 100% better than I was before my surgery, and my home and work life are much better than I ever imagined," says Kirkpatrick. "I can't thank the Dameron staff and Dr. Vyas enough for helping me get my life and appetite back, pain-free!"
Categories: Robotic surgery
Meet LISA, the most advanced surgical robot in Stockton
Get an in-depth look at the da Vinci Xi Robotic Surgery System, and learn how Dameron Hospital is using state-of-the-art technology to get you back on your feet faster.